Hugh Trenchard
First World War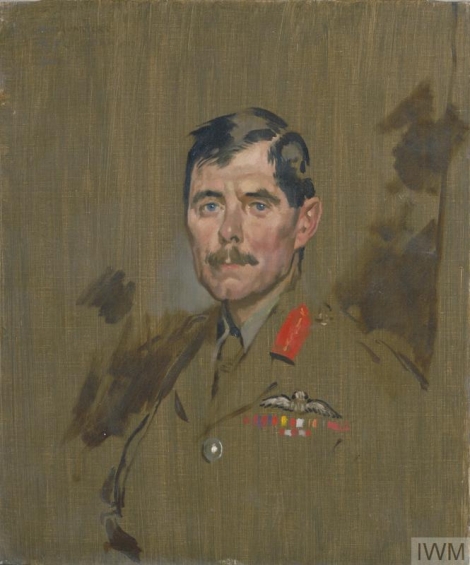 Hugh Trenchard © IWM(Art.IWM ART 325)
Born 3 February 1873, Hugh Trenchard was a British Officer and Air Marshal who helped to lay the foundations of the RAF.
Joining the army in 1893, Trenchard served in the Boer War and then in Nigeria, before returning to Britain in 1912. In the same year, he trained to fly, and by 1913 was Assistant Commandant of the Central Flying School. In 1915, Trenchard assumed command of the RFC in France. His policies of launching persistent attacks in order to establish aerial dominance became the standard doctrine of Britain's air force. In January 1918, Trenchard was appointed Britain's first Chief of Air Staff.
He resigned in April the same year and went on to organise the Inter-Allied Independent Bomber Force, a force of RAF heavy bombers that raided targets in Germany. In 1919, he became the RAF's first Chief of Staff. In this position, Trenchard strengthened the RAF in its early years by founding colleges for air cadets and staff officers and by introducing short-service commissions that built a reserve of trained officers. He remained Chief of Staff until 1927, when he became the first Marshal of the RAF.
Retiring from service two years later, Trenchard went on to serve as Commissioner of the Metropolitan Police (1931–1935) and Chairman of the United Africa Company (1936–1953). He was made a baronet (1919), a baron (1930) and a viscount (1936).
Trenchard died on 10 February 1956 at the age of 83.