James E. 'Johnnie' Johnson
Second World War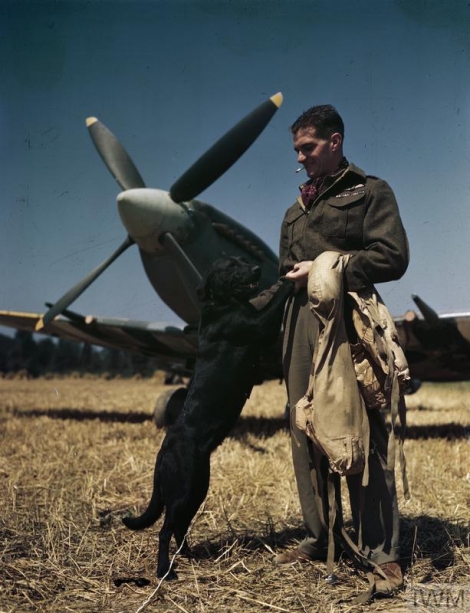 James E. 'Johnnie' Johnson ©IWM(TR 2145)
James E. 'Johnnie' Johnson was Britain's highest scoring fighter ace during the Second World War. Born on 9 March 1915 in Barrow-upon-Soar in Leicestershire, Johnson completed a degree in civil engineering at the University of Nottingham in 1937. Initially, he failed to join the air force, with both the Auxiliary Air Force and the RAFVR rejecting his applications.
On the outbreak of the Second World War, however, he was accepted for pilot training and sent to Hawarden in Cheshire. Here, he learned to fly Spitfires and was posted to No. 19 Squadron in September 1940. Johnson's participation in the Battle of Britain was limited by a shoulder injury and, following his recovery, he was posted to No. 616 Squadron. Johnson quickly proved to be a highly-skilled fighter pilot and was promoted to Flight Lieutenant in September 1941. The following year, he became Squadron Leader and, in March 1943, was made Wing Commander and given command of No. 610 Squadron. In 1944, Johnson took command of the Canadian wing in the recently formed Second Tactical Air Force.
By the end of the Second World War, Johnson had 44 victories – the highest official record of the conflict. He had flown in over 1,000 combat missions and held the impressive achievement of never being shot down, with his Spitfire damaged by the enemy on only one occasion. Remaining in the RAF after the Second World War, Johnson served in Korea with a US Air Force attachment. He commanded RAF Wildenrath in Germany and RAF Cottesmore in England. From 1960 to 1963, he was Senior Air Staff officer in 3 Group, Bomber Command. In 1963, he became Air Officer Commanding, Air Forces Middle East. He remained there until 1966, when he retired with the rank of Air Vice-Marshal.
Johnson died on 30 January 2001, aged 85. He was awarded the DSO and two bars, the DFC and bar, and the Belgian Légion d'Honneur and Croix de Guerre for his service during the Second World War. He was also awarded the American DFC for his service in the Korean War.