Britain and the Berlin Airlift 1948-49
The Western Allied response to the Soviet blockade of Berlin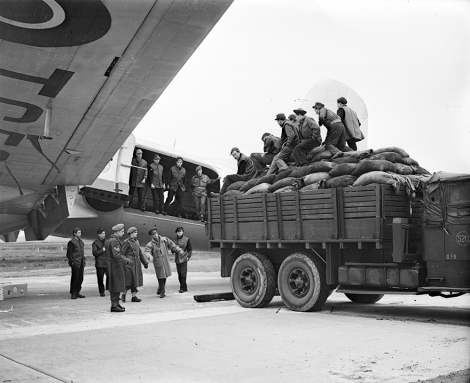 British Army soldiers and German civilians stand by as a truckload of coal is backed up to the loading door of a Handley-Page Hastings at Schleswigland. Credit: Crown Copyright / Ministry of Defence. Courtesy of Air Historical Branch (RAF)
As the relationship between the four occupying powers in Germany deteriorated during the early months of 1948, the British and Americans made some contingency plans for supplying their garrisons in Berlin by airlifting supplies.
In April the British Army of the Rhine and Royal Air Force Transport Command had drawn up a plan to fly in 65 tons of supplies per day using two Dakota squadrons deployed from their base in England.
They had also laid plans for flying out the families of the garrison on the return flights from Berlin. No consideration had been given to supplying the needs of the two million Berliners living in the Western sectors of the city. When the Soviet blockade was imposed, the problems faced by the Western Allies seemed dauntingly insoluble. The political stakes could hardly have been higher...
Download full article below